Differential pressure switch RT260A
Differential pressure switch RT260A
XINRUIHUA

Shandong, China

about 30 days

3000 pcs/month
Features of the differential pressure controller switch:
■ Enclosure protection grade IP66
■ Wide pressure adjustment range
■ Widely used in industrial and marine industries
■ Suitable for AC and DC circuits (a.c. and d.c.)
■ Contact system is interchangeable
Accurate differential pressure switch
Introduction
An RT pressure switch contains a pressure operated single-pole changeover contact, the position of which depends on the pressure in the inlet connection and the set scale value.
The RT series includes pressure switches for general applications within industrial and marine refrigeration.
The RT series also includes differential pressure switches, pressure switches for neutral zone regulation, and special pressure switches with gold-plated contact surfaces for PLC applications.
Features of the differential pressure controller switch:
■ Enclosure protection grade IP66
■ Wide pressure adjustment range
■ Widely used in industrial and marine industries
■ Suitable for AC and DC circuits (a.c. and d.c.)
■ Contact system is interchangeable
Technical Parameters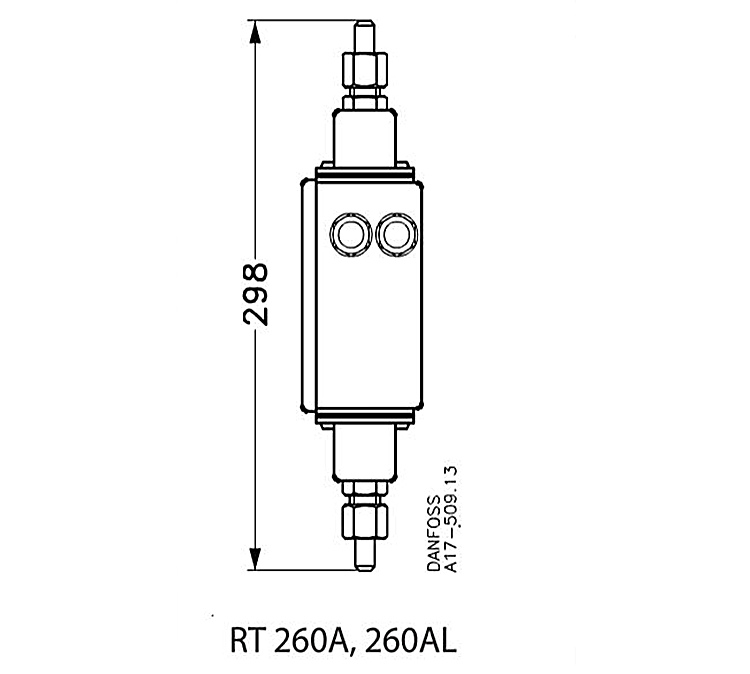 | | |
| --- | --- |
| | Accurate differential pressure switch |
| | R12,R22,R717 etc. |
| | |
| | PG13.5 |
| | IP66 |
| | -50~+70 ℃ |

The RT type pressure controller includes a differential pressure controller, a pressure controller in the middle section, and a special pressure controller with gold plating for the PLC. RT pressure controllers are used in industrial and marine refrigeration applications. RT differential pressure controller for ammonia and fluoride refrigerants.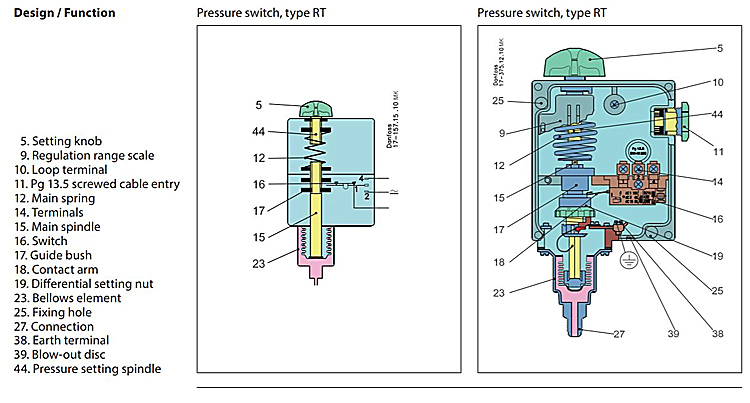 Product Details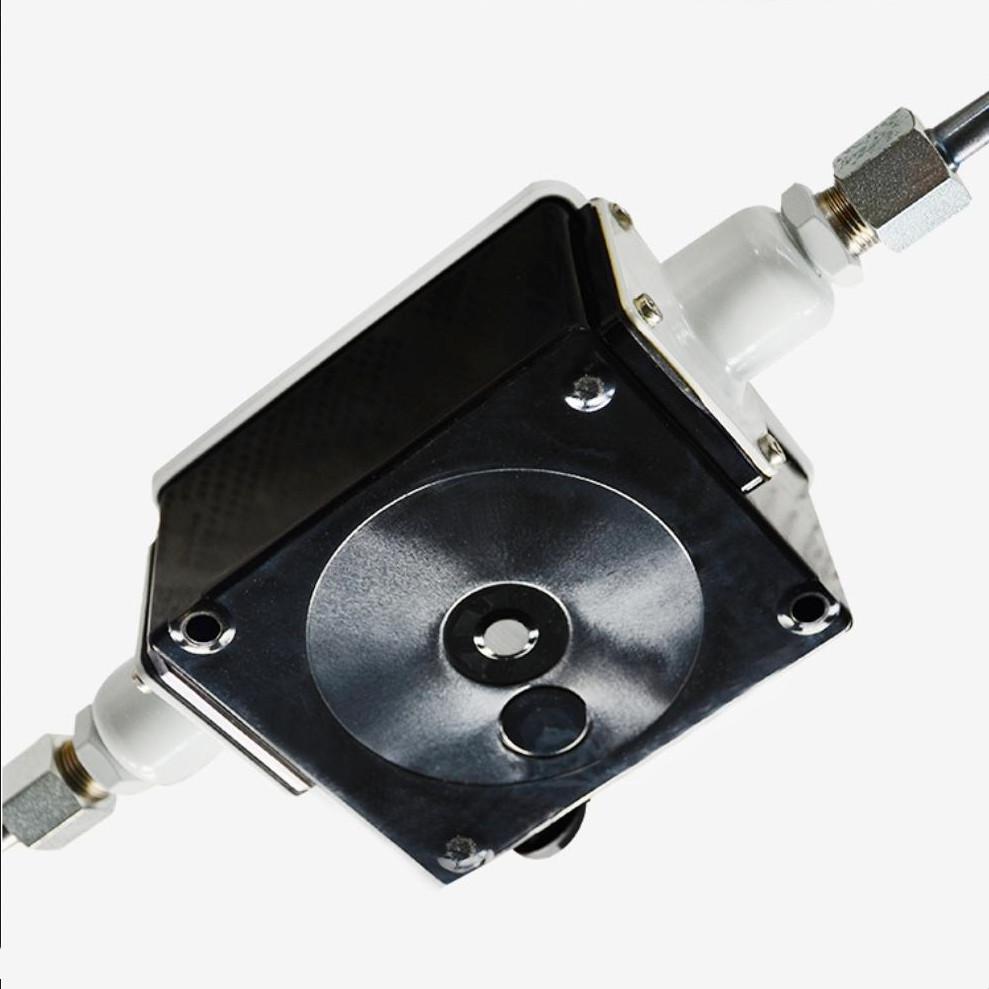 Setting
RT with automatic reset – LP The knob is used to set the lowest pressure at which the contact system must be activated (cut-out or cut-in). This value can be read on the main scale of the unit.
The differential roller must be used to set the differential. Highest activating pressure = lowest activating pressure + set differential.
RT with manual reset – LP RT pressure switches RT 1 and RT 1A are obtainable in versions with min. reset. When the pressure falls to the setting value the pressure control cuts out.
Manual reset becomes possible when the pressure in the bellows system has risen to a value corresponding to the set value + the differential.
On falling pressure the follower activates the contact system arm and the contact changes over.
The scale is calibrated so that the scale value corresponds to contact changeover on falling pressure.
Related products:
Magnetic Flap Level Gauge, Plate level gauge, Pressure controller, Differential pressure switch, Digital temperature display, Iron Shell Thermometer, Pressure sensor, temperature probe, Temperature controller, Time relay, Pressure gauge, Explosion-proof pressure transmitter, Temperature platinum thermal resistance, Float level controller
Shandong Ruihua Refrigeration Equipment Co.,Ltd is found in 1989, as an engineering, manufacturing, installation and maintenance refrigeration equipment company. We can also provide environmental protection and energy saving refrigeration solutions in accordance with users' requirements.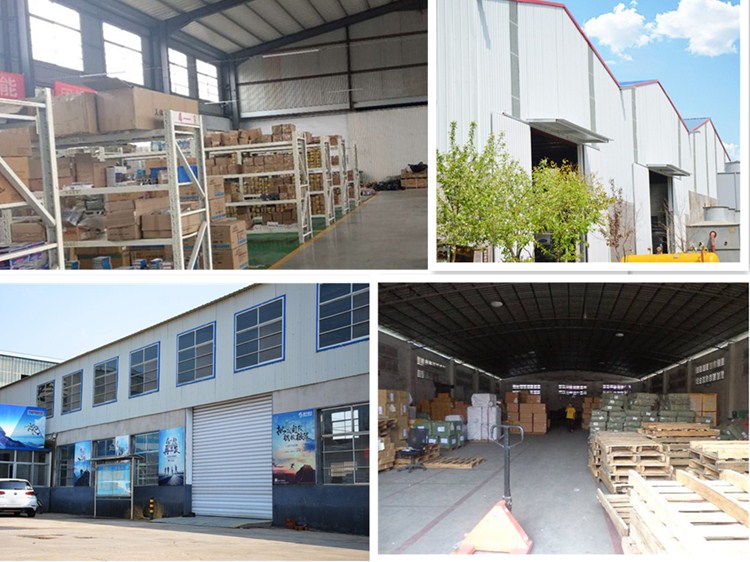 We mainly provide a variety of refrigeration accessories,screw refrigeration compressors and accessories, piston refrigeration compressors and accessories, Industrial refrigeration system accessories, Cold storage installation accessories, Ammonia chemical protection products, Refrigeration instrument and gauge and so on.