Shandong Ruihua Refrigeration Equipment Co., Ltd. 2019 Annual Development Summary Report part 1
08-02-2020
With the departure of 2019, 2020 has come. In the past year, Ruihua people have worked hard and forged ahead, and achieved excellent results. Various systems have been gradually improved, the staff structure has become clearer, department cooperation has been harmonious, and employee happiness has been continuously improved. This year, we organized two tours, enrichment and other activities, co-organized the third Linyi International Refrigeration Exhibition, and made great achievements in the third Red June Refrigeration Festival.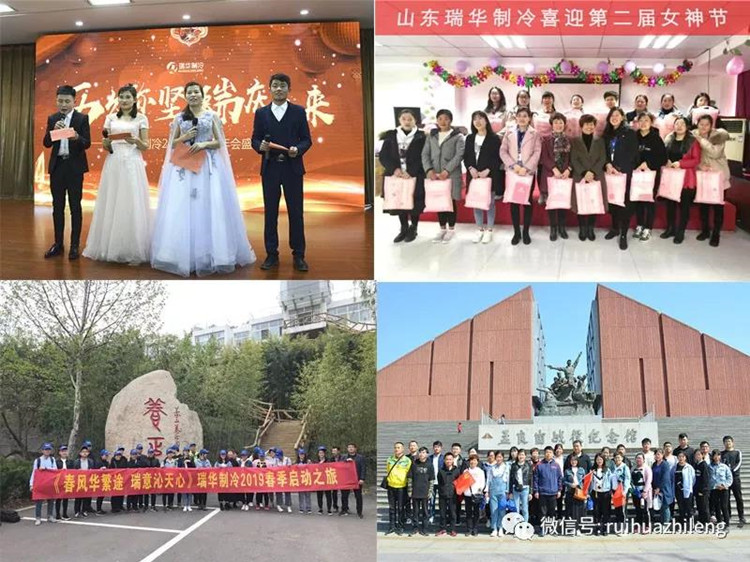 Ruihua Refrigeration was established in 2010. After several years of development, it now focuses on the sales of refrigeration accessories, maintenance of refrigeration units, and design and construction of cold storage.
In 2012, China Refrigeration Network, a B2B platform for the refrigeration industry, was invested and built. It is the earliest professional platform for the refrigeration industry in China. In 2014, the e-commerce team was established and began to engage in e-commerce network sales. In 2015, the company relocated to Hedong District E-commerce Pioneer Park, and achieved 5 million e-commerce sales that year.
In 2016, the company invested in the construction of a standardized e-commerce warehouse center, fully developed e-commerce, and independently developed a WMS warehouse management system. Sales doubled that year.
In 2018, relying on big data analysis, maintenance, engineering, customer service and other departments were successively established. In the whole year, the total sales exceeded 20 million, and the sales of online online accessories reached 10.5 million.
In 2019, it is facing multiple pressures to achieve annual sales of more than 30 million. 2020 is the tenth anniversary of the founding of the company. As the tenth anniversary approaches, we will review 2019 together and look forward to a better future.